Posts: 475
Joined: Sun Apr 29, 2018 8:28 am
Mood:
Go thru life with that ..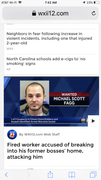 ---
Posts: 731
Joined: Sun Oct 28, 2018 8:02 pm
And not even be intelligent enough to legally change your name.. There'd always be that elephant in the room wherever you went.

"Oh here comes that Fagg again." "That Fagg, he can't do anything right." "I'm really sick of that Fagg." "I wish I could just fuckin fire that Fagg."

Now he'll be a Fagg felon. Life just got even more fun.
---
Users browsing this forum: No registered users and 6 guests